Shop New for the Holidays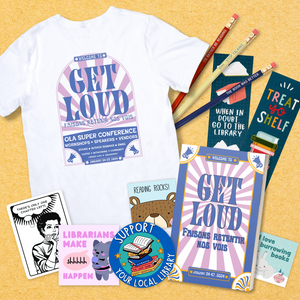 Get loud with your Super Conference Swag!
This year's theme Get Loud symbolizes our commitment to civic engagement, recognizing the significance of libraries in promoting equity, diversity, and truth.
And now you can grab a limited edition swag bag and wear this theme proudly! Order a full bag or just the t-shirt today.
Grab Your Swag!
New and Upcoming from ALA
The Library Marketplace
Telephone: 1-877-340-1730
Mon - Fri, 10am - 5:00pm
Please note: OLA Offices are closed to the public due to the global pandemic. All staff work remotely.
If you have any questions, contact orders@accessola.com